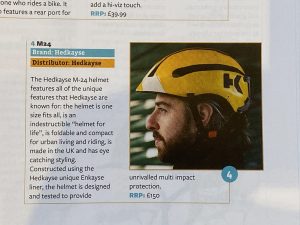 The Indestructible Helmet for Life
Renowned British helmet designers and manufacturers HedKayse have partnered with M-24, creators of cycling bags made from recycled lorry tarpaulin, for their latest helmet collaboration.
Every helmet in this limited run is unique – each comes with its own history of scrapes, scuffs and marks, making it one of a kind and ticking all the sustainability boxes, something this brand takes very seriously.
Typical of all Hedkayse designs, the new Hedkayse M-24 helmet (made from the same recycled lorry tarpaulin that makes up the bags) is one size fits all, foldable and compact for urban living and riding, made in the UK and has eye catching styling – an indestructible "helmet for life."
Constructed using the Hedkayse unique Enkayse™ liner (rather than the more fragile polystyrene used by other brands), the helmet is designed and tested to provide unrivalled multi impact protection. Hedkayse | ONE is not a fragile one-hit wonder, the unique Enkayse™ liner enables the helmet to pass EN1078 safety tests after multiple impacts and provide unrivalled protection time and time again, meaning there is no need to replace your helmet after every knock or crash.  As George Fox from Hedkayse describes it – "a pair of tough boots in a world of running shoes!  We have loved the design and build quality of the M-24 bags for a long time, alongside their sustainability message, which is an issue we take very seriously. The M-24 helmet with matching bag looks and performs brilliantly for any rider taking on the city."
With a number of colour options and designs available now, this is must have product from an exciting British brand.
For more information and to own a cycle helmet with a difference, visit