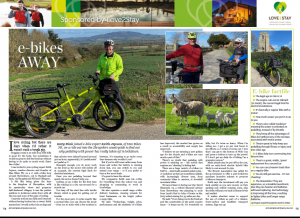 TAKING THE STRAIN OUT OF SHROPSHIRE HILLS
Katy Rink joined e-bike expert Keith Jepson, of Max Bikes PR, on a ride out into the Shropshire countryside to find out why pedalling with power has really taken off in lockdown.
I love cycling but there are days when I'd rather it wasn't such a tough gig. Slogging round a 20 mile loop with hills as good for the body, but sometimes it would be great to feel the freedom without having to do quite so much work. Enter the e-bike!
I was invited to join cycling expert Keith Jepson, creative director and founder of Max Bikes PR, on a 17 mile e-bike loop around Shrewsbury, out to Hadnall and back, via Haughmond Hill and Uffington.
It felt like being given the keys to the kingdom of Shropshire, with its spectacular views and gorgeous half-timbered villages; it was the perfect antidote to lockdown cabin fever with all the joys and none of the pain of cycling. I scarcely noticed any hills and returned without having broken into a sweat. Keith assured me I would notice it in my legs and that calories were indeed burned (around 300 an hour, apparently), it's 'pedal assist' not pedal-4-U.
Strangely enough, you do more work on the level as the engine will switch off at 15.5mph, the current legal limit for electrical assistance. Once you are pedalling beyond that speed, the motor doesn't help you.
Getting on an e-bike for the first time is like trading in a city run-around for a muscle car. You leap of the start line with terrific thrust, which is great for getting out of trouble.  For the most part, it cycles exactly like a normal bike; you can choose the mode – from eco to turbo with a few notches in between. It's tempting to go turbo every time because why wouldn't you? But if you're still some miles away from home and notice the battery is running down fast, you can switch to eco and extend your range – or if you prefer to burn a few more kcals. It's great to have the choice!
My companion Keith uses his e-bike for everything from the school run and shopping to commuting to work in Ironbridge. He also operates a small cargo e-bike delivery business, running errands for local businesses on his bright yellow e-cargo bike.
He said: "Technology, weight, price, performance and the aesthetic of e-bikes has improved, the market has grown as a result so accessibility and supply has improved. I believe we are entering a new golden age for the bicycle and e-bikes are very much a part of this."
There's no doubt that pedalling with power is catching on – the notion that engines are 'cheating' is fading fast. There are a huge variety of e-bikes (or EAPCs – electrically assisted pedal cycles – or 'pedelecs' as they are sometimes called), with increasingly diverse uses, from commuter bikes to carriers, to downhill mountain bikes.
We saw at least 10 during our trip. David Blamwell, 73, a retired financial adviser from Shrewsbury was planning to cycle from Land's End to John o'Groats on his, (603 miles) aiming for 35 miles per day.
He said: "I love being out in the fresh air and the countryside on the quiet country lanes – it keeps me fit. It's wonderful on hills, but it's twice as heavy. When I'm riding eco, I get a 50% boost to my efforts, so I reckon it evens out. I love that I can get to the bottom of Wyle Cop and press a button to turn up the power! If I don't get my daily fix of biking I'm a grumpier person."
Many people may be put off by the cost, with an entry-level electric hybrid bike likely to cost around £1,099. The Bicycle Association has called for the government to offer a post-lockdown purchase incentive scheme to promote e-bikes as transport.
It makes absolute sense to support the use of e-bikes as part of a cleaner, lower-carbon and healthier transport system. Sign me up!
E-bike Factfile
–          The legal age to ride is 14
–          The engine cuts out at 25kmph (15.5mph), the current legal limit for electrical assistance.
–          It's basically a regular bike with a motor!
–          How much power you put in is up to you
–          They're also called 'pedelecs' meaning the power is activated on pedalling, instead of by throttle
–          They bring all the advantages of bikes but without any of the red tape associated with motor power
–          They're great to help keep you pedalling through illness or injury and into older age
–          E-bikes help turn commuting into leisure time
–          They're a great, viable, 'green' replacement for a second car
–          You can carry heavier loads than on a regular bike
–          You do still get exercise – it's not cheating!
–          The downsides? Yes, they are expensive, so a sizeable investment, they are heavier and batteries will eventually need replacing. But technology is improving all the time, resulting in lighter bikes and longer range batteries.