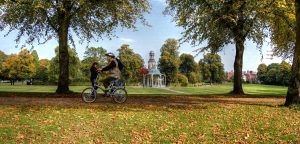 SEE THE SIGHTS.
Experience the beauty of our city on one of our 18-Speed Hybrid bikes. These cycles are perfect for cycling in the City Centre itself or within the rolling, and sometimes challenging, Shropshire hills.
One of our most popular rides is…
Family Friendly Rides – Traffic-free Adventures: Shrewsbury to Uffington
10 miles of traffic free riding along the River Severn from the heart of Shrewsbury to the Shropshire contryside.
FIND US EASILY.
We are located in the centre of Shrewsbury. Close to train links, the local parking and with frequent buses.
STAY SAFE.
Your safety is of utmost importance. No bike is rented out before it has undergone a rigorous safety check. We can provide a helmet, if you don't have your own (please do wear one). A bike lock is provided free of charge.
STAY PUNCTURE FREE.
We want you to have the best possible experience in our wonderful city, which is why we fit each bike with puncture-proof tyres!
THE SMALL PRINT.
Prices…
1/2 day (3hrs 9.30am-12.30pm) – £20 per bike.
Full day (6rs 9.30am – 3.30pm) – £35 per bike.
We observe all the current Covid-19 regulations and bikes are thoroughly cleaned between use.
Please book at least 24 hrs in advance.
We require: proof of identity – driving license, passport, and credit card.
Monday – Saturday
9.30am – 3.30pm
Read more @ https://www.maxbikespr.co.uk/bike-hire-shrewsbury/