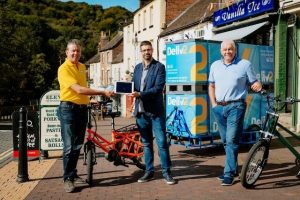 Deliv2 are delighted to be offering e-bike deliveries in Shrewsbury.
E-bikes are an efficient, fast, practical and green way to transport goods around Shrewsbury. Delivery by e-bike is the perfect solution for many businesses in this modern world. They help to reduce the carbon footprint of a business and are an extremely efficient method of delivering goods as the running costs are low and they do not get stuck in traffic. With Shrewsbury's Old streets, many of them not designed for the volume of modern traffic, the e-bike is the perfect business partner!
With a fleet of top of the range e-bikes, cargo bikes and trailers, Deliv2 are able to safely and securely deliver parcels of any size within the Shrewsbury Town Boundary.
The App (available shortly) offers complete booking and tracking of items for both the business and the consumer. Parcels can be delivered swiftly, with same day delivery, for the cost of £3.50 per delivery, with special rates for larger volumes.
We are offering an introductory subscription package offer to all Shrewsbury Bid members of only £30 per month, which covers 10 deliveries. Bespoke solutions are available, so please give us a call to discuss options.
Businesses can take advantage of the service by downloading the booking App or by contacting Deliv2 @ 
https://deliv2.

co.uk

/
Mal Evans one of the Deliv2 founders commented…"We are a local business, who are looking to launch across the UK and are delighted to start in our home town. We believe in supporting local businesses and are determined to offer a unique delivery service that does just that! A service that is easy to use, practical, fun and cost effective, utilising both modern technology and the heritage of bicycle delivery. Shrewsbury is the perfect location to offer this service with so many amazing Independent shops".
Keith Jepson from Max Bikes PR Ltd, a Shrewsbury based PR and Marketing consultancy has experience of making bicycle deliveries in the town and has partnered with Deliv2 to offer an exciting new service.
Keith added…"we are really excited to launch Deliv2 Shrewsbury and believe it can offer an excellent delivery service for the Independent stores in the town. In these strange times, it's never been more important to engage with new and existing customers in creative ways and the on-line shopping experience continues to expand…delivery to consumers is a vital part of the chain. We can offer a professional and friendly delivery service that is both practical and great for our local environment".
Keith will be riding around the Town introducing himself to businesses in the coming weeks.
To find out more go to…